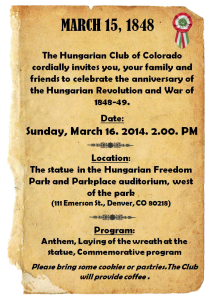 The Hungarian Club of Colorado cordially invites you, your family and friends to celebrate the anniversary of the Hungarian Revolution and War of 1848-49.
Date:
Sunday, March 16. 2014. 2.00. PM
Location:
The statue in the Hungarian Freedom Park and Parkplace auditorium, west of the park (111 Emerson St., Denver, CO 80218)
Program:
Anthem, Laying of the wreath at the statue, Commemorative program.
Please bring some cookies or pastries.The Club will provide coffee .